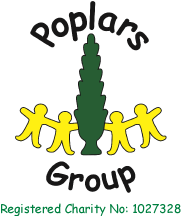 POPLARS GROUP

"Laying down roots for the future"

After School Club
Poplars Group After School Club aims to provide a warm, caring and safe environment for children whose parents/carers wish them to stay at school out of normal hours for whatever reason. Our team of experienced staff provide activities dedicated to the needs of each individual child. The adult to child ratio for school children in our Caterpillar Room is 1:8 and in our Butterfly room 1:10. There is always a pediatric first aid qualified member of staff on site at all times.

Foundation Stage and Key Stage One children will be collected from their classrooms by a member of staff and escorted to their play base. All other year groups will make their own way to their relevant play base, within the safety of the school grounds. Children will be registered then drinks and snacks will be provided. They can then go on to do various activities which will include games, sports, and crafts. Activities will be child-led and we will try and accommodate all the children's interests. Poplars Group After School Club places great emphasis on outdoor play: using the extensive, secure and well maintained grounds with lots of free play. A light healthy snack will be offered for those children who attend the After School Club after 4.15pm. This comprises of a choice of crackers, wraps and sandwiches with a selection of toppings/fillings, beans or spaghetti on toast and pasta. A vegetarian option is always available.
Please contact us for a copy of our full prospectus.