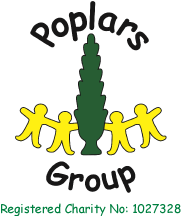 POPLARS GROUP

"Laying down roots for the future"

Opening Times and Charges

We are open for 38 weeks of the year in line with Water Leys Primary School between the hours of 7.30am and 5.30pm, Monday – Friday. We also offer the following sessional care.
Butterfly Room 5 days

Caterpillar Room 5 days

Sessional Times

8.45am - 11.45am
8.45am - 11.45am
11.45.am - 2.45pm
11.45am - 2.45pm

Pre School All Day Care

8.45am - 2.45pm
8.45am - 2.45pm
The fees are £13.20 per session or £4.40 per hour payable monthly in advance. Fees must still be paid if children are absent. We are in receipt of nursery education funding for two (where eligible), three and four year olds allowing us to offer free funded sessions.

We also offer care during the school holidays. Further information can be found under the Holiday Club.